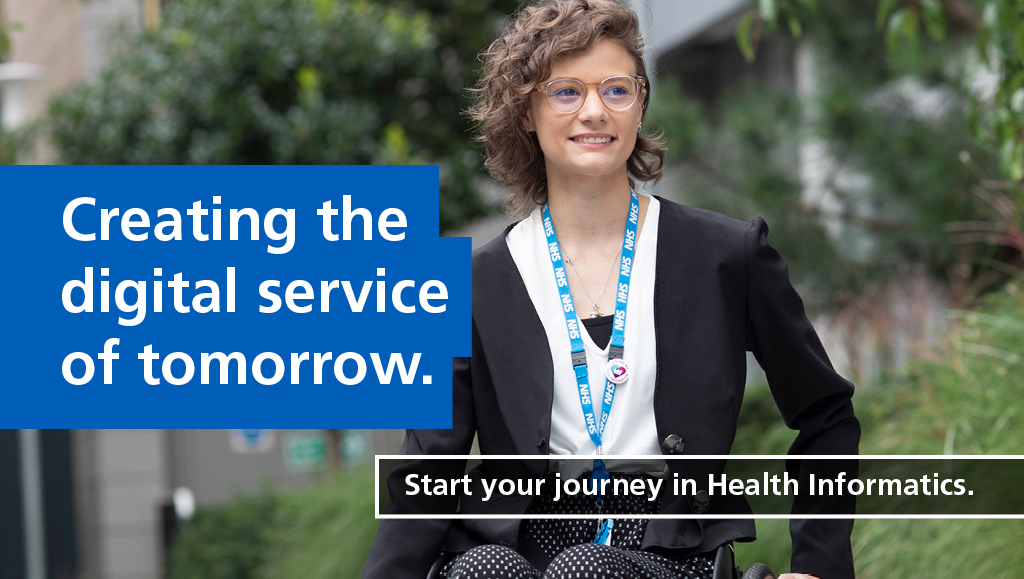 "The Health Informatics specialism was a revelation to me. I had no idea that the NHS offered a graduate programme like this – it fits so well to what I set out to do. Now I work with a team where our sole focus is to help improve patient care. We look at intelligence, reports, workflows and more, to find answers to big, important issues. How exciting is that!"
Shariqa
Start your journey in Health Informatics
It is more important than ever that the NHS can use digital technologies and data effectively to deliver patient care today – and in the future. With the growing influence of Artificial Intelligence (AI), there's so much more that can be achieved through the application of data and digital systems in the NHS.
Trainees will join the scheme at a time of growing demand for informatics and data analysis skills across the organisation. You will learn about healthcare policy and strategy, get involved in the design and implementation of digital systems and work on analytical and predictive intelligence to inform decisions. You'll need strong analytical skills and a genuine interest in the potential of information technology. On placement, you may be involved in connecting healthcare data across NHS organisations, analysing A&E and outpatient data to recommend improvements in data management, and delivering online patient services.
Qualifications
Trainees work towards a Postgraduate Diploma in Data Analytics, delivered by University College London and the University of Manchester. Previous modules have included: Essentials of Informatics for Healthcare Systems, Principles of Health Data Analytics and Health Information Systems and Technologies.
All trainees on the scheme study for a Postgraduate Certificate in Healthcare Leadership during their first year. In addition to academic qualifications, trainees participate in experiential and action learning, to develop their leadership skills more broadly.
Teaching is delivered during working hours, but trainees can expect to complete coursework and revision in their own time.
Career path
After graduating, trainees have joined NHS organisations in roles including: App Developer, Informatics Project Manager, Public Health Analyst/ Strategic Analyst, Information Analytics Lead and Digital Project/Programme Manager.
Entry
Any degree, 2:2 and above
Salary
£27,701 + benefits
We're looking for leadership potential. To help you achieve yours, every trainee is supported by a:
• Programme manager to support your progress through the scheme
• Support manager to provide pastoral support for the duration of the scheme
• Placement manager on each placement
• Buddy – usually a trainee from the previous cohort
• Local NHS Leadership and Lifelong Learning network – host local events and manage alumni networks
• Trainee Experience Support Group – advocate for trainees within the NHS
Health Informatics FAQs
Can I apply to the Scheme if I already have a qualification in Health Informatics?

No. We cannot accept applications from individuals who are already qualified or have a post graduate qualification in Health Informatics.