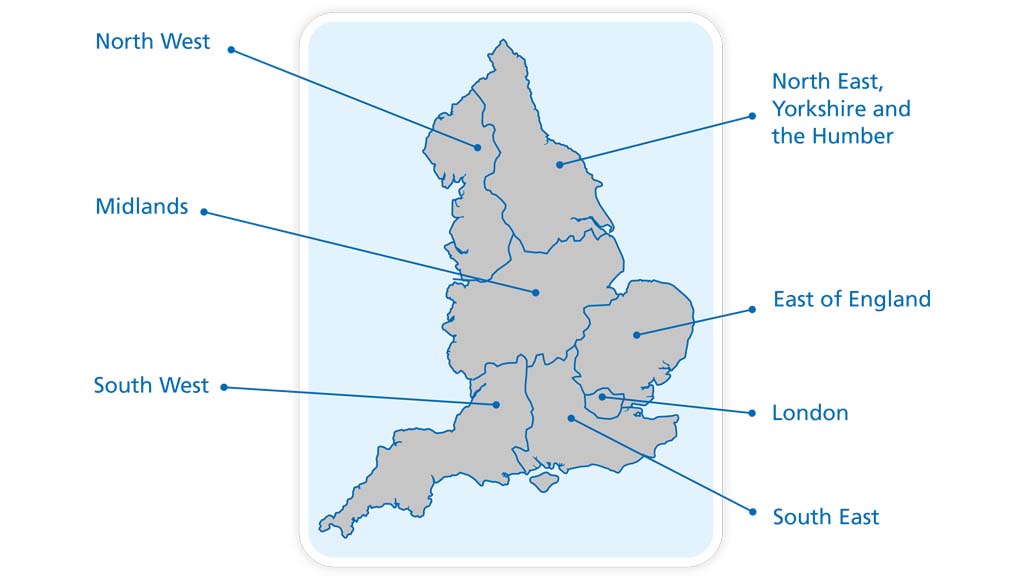 Where will you start your journey?
We have opportunities for you to start your NHS leadership career in hundreds of locations across England. From regional hospitals in rural areas to offices in bustling cities, we have placements in the area you want to live and work.
Our placements are offered across 7 regions. When you apply, we'll ask you to select up to three preferences. Tell us about any personal circumstances that limit your ability to work outside your preferred area, so these can be taken into consideration. We will do our best to find you a place in the location of your choice but can't guarantee this.
Trainees will remain in the same region through their time on the scheme. Your 2 or 3 placements on the scheme might be in different organisations within the region and you will need to be flexible about working in different locations. This could mean working in a city centre for your first placement but outside a smaller town for your second. Have a look at the maps and information about the regions you're interested in to find out more.
South East
Your placement could be anywhere within the South East Region from Buckinghamshire and Oxfordshire in the north, to the Isle of Wight or Sussex in the south. Or you could be placed in Hampshire in the west or the regions, or Kent in the east. In the centre of the region, we also serve parts of Surrey and all of Berkshire including Maidenhead and Slough. Many of our organisations have multiple sites, you therefore may be required to travel to different towns or across the county during your placement. Please choose your region carefully when making your application.
This region has a diverse population along with a mixture of urban and rural areas. The South East region has a rich mix of towns, three ancient cathedral cities, with plenty of green spaces including the two national parks, (New Forest and South Downs) and a long and varied coastline.
The South East Region is formed of six Integrated Care Systems (ICS) – Berkshire, Oxfordshire & Buckinghamshire (BOB); Frimley, Hampshire Isle of Wight (HIOW), Kent and Medway. Surrey Heartlands, Sussex.
Organisations making up each system consist of Primary Care (GP practices etc), Mental and Community Health, Commissioning teams, Acute Trusts, Ambulance Services, Local Authorities plus other organisations including private and not-for profit community groups. GMTS Placements may be based at any of these organisations.
A high proportion of CEOs from this area are alumni from the Graduate Management Training Scheme, demonstrating a great local engagement in the scheme at a senior level.
East of England
The East of England regions covers Norfolk, Suffolk, Essex, Hertfordshire, Cambridgeshire, and Bedfordshire. With a population of over 6m, regional centres include Norwich, Ipswich, Colchester, Chelmsford, Southend, Cambridge, Peterborough, Bedford, and Luton. The southern part of the region is within London's commuter belt.
Trainees have been allocated to a wide range of placements across Acute Trusts, Community Trusts, Clinical Commissioning Groups, Integrated Care Systems, and Primary Care networks. We currently have trainees in every part of the region.
North East and Yorkshire
The North East and Yorkshire region covers Northumberland, County Durham, Tyne and Wear, Tees Valley, Scarborough, Grimsby, Lincolnshire (North & North East), York, Harrogate and Leeds.
The region has fantastic culture, some of the best beaches in the UK, rolling countryside, renowned nightlife, low cost of living and friendly people. The Yorkshire Dales, North York Moors and the East Coast are all close by, meaning you're never short of fresh air and amazing scenery.
The area has good transport links. It's well connected by train and road to nearby towns and cities.
This region has 22 Acute Trusts, three Ambulance Trusts, nine Community and Mental Health Trusts, 24 CCGs and 1 Specialist Children's Foundation Trust in the North East and Yorkshire region.
Cutting-edge facilities in this region include the UK's first Institute of Transplantation. The Institute has an international reputation for leading-edge transplant surgery for children and adults and is the only centre in the UK to provide all complex cardiopulmonary surgery, including heart and lung transplants. It's also one of only 14 major children's medical centres in the UK.
To help ensure health and care services are built around the needs of people in the region, local providers and commissioners are working together in Integrated Care Systems (ICS). There are 4 ICS in the North East and Yorkshire region: North East and North Cumbria, Humber Coast and Vale, West Yorkshire and Harrogate and South Yorkshire & Bassetlaw.
Across the region, over 41 organisations are experienced in hosting trainees, including:
Arms Length Bodies such as NHS England and NHS Improvement and NHS Business Services Authority
Acute Trusts such as Newcastle upon Tyne Hospitals NHS Foundation Trust, The Leeds Teaching Hospitals NHS Trust, Sheffield Children's NHS Foundation Trust
Community and Mental health Trusts such as Tees, Esk and Wear Valleys NHS Foundation Trust or South West Yorkshire Partnership Foundation Trust
Primary Care Providers such as Leeds Student Medical Practice and One Medical Group
Integrated Care Systems such as South Yorkshire and Bassetlaw ICS or West Yorkshire and Harrogate ICP
Midlands
The Midlands region has a diverse population and geography. You could be placed in urban Birmingham, the UK's 2nd largest city – or rural Lincolnshire, our 2nd largest county.
Our regional services include Acute Trusts, Mental Health Trusts, Community Trusts, the Ambulance Trust, GP Practices, Dental Practices, Clinical Commissioning Groups, Health and Wellbeing Boards, Local Authorities, Education Providers, an Academic Health Science Network, a Clinical Senate and NHS England Area Teams.
Within our geography we currently have 11 regions, and your placements could be within any of these areas: Birmingham and Solihull, Staffordshire, Shropshire, Black Country, Coventry and Warwickshire, Hereford and Worcester, Derbyshire, Lincolnshire; Nottinghamshire, Leicester, Leicestershire & Rutland or Northamptonshire.
London
You could be based anywhere in the London area shown on the map above. The region of London covers locations such as Lewisham, Croydon, Barking, Brent, Bromley, Enfield, Epsom, Sutton, Haringey, Hillingdon, Harrow, Kingston and Newham. Please choose your region carefully when making your application.
The London GMTS team places trainees on the six specialisms that we host across each of the five London Integrated Care Systems: North London Partners in health and social , North East London Health & Care Partnership, North West London Integrated Care System, Our Healthier South East London Integrated Care System, South West London Health & Care Partnership
Trainees may be placed for their operational and strategic placements in a number of varied and diverse settings, including: Clinical Commissioning Group, Acute, Community, Mental Health providers.
North West
You could be based anywhere in the area shown on the map above. The region of North West covers locations such as Greater Manchester, Merseyside, Cheshire, Lancashire and South Cumbria. Please choose your region carefully when making your application.
This region covers an area of over 5,400 square miles and has a population of over seven million people, it's the third most populated region in the UK. Manchester and Liverpool amongst the most diverse cities in Europe.
The region includes 21 Acute Trusts, along with 8 Mental Health and 3 Community Trusts. It's also home to 8 Specialist Trusts, including The Christie, which is the largest single site cancer centre in Europe, treating 44,000 patients a year.
The region touches on three National Parks – including all of the Lake District, which boasts the highest peak in England (Scafell Pike at a height of 3,209 feet) and three Areas of Outstanding Natural Beauty.
South West

The South West region covers the counties of Dorset, Bristol, Wiltshire, Swindon, Gloucestershire, Cornwall, Devon and Somerset.
You could be based anywhere in the South West region, shown on the map above. Major towns and cities include: Wimborne, Bristol, Chippenham, Gloucester, Bath, Taunton, Yeovil, Exeter, Barnstaple, Plymouth and Truro. Please choose your region carefully when making your application.
There are 7 Clinical Commissioning Groups, 5 Community and Mental Health Trusts, 16 Foundation Trusts and 4 Hospital Trusts in the South West.
Can I change region after I've been offered a place or have started on the scheme?

No. Once you've passed the Assessment Centre, we can't change your preferred region/s or the region to which you have been allocated as a successful candidate.
Can I request a specific area, city or NHS site within a region?

No. Trainees are expected to work at any NHS site within a region, unless given exemption due to personal circumstances.
How do I apply to work in a specific area within a region, due to personal circumstances?

You can state personal circumstances that mean you are unable to work flexibly across a region in your application form.

We will consider circumstances relating to: significant child care responsibilities of parents / legal guardians, primary care responsibilities for a close relative, and medical conditions for which working in a specified location is mandatory.

We will not consider circumstances relating to: pets, pastimes or commuting time. This includes intention to purchase a property that would prevent a reasonable commute to / within a region. A 'reasonable commute' means up to 90 mins to and from work.
Am I guaranteed a placement in my preferred region/s?

We work hard to find placements that meet candidate needs and preferences, but this is not always possible. We are unable to guarantee that the place you are offered will be within the region/s requested.

We consider candidate assessment ranking, placement availability, regional preference and personal circumstances when making offers.