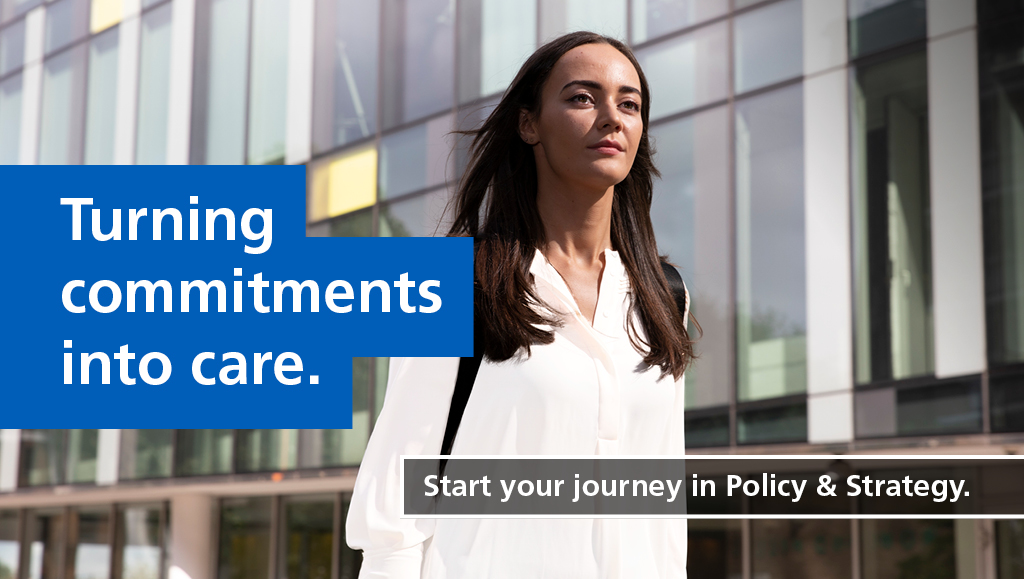 "I'm looking forward to the responsibility. Improving people's quality of life will be highly rewarding."
Jason, Policy and Strategy
Start your journey in Policy and Strategy
You will be working at a national level alongside senior leaders, contributing to high-profile work that will shape and influence the strategic direction of the NHS. Ability to see the 'big picture' and uphold the values of the NHS will be crucial as you evaluate the costs and benefits of different scenarios. You will be supported and inspired to develop into a strategic leader with the vision and ability to shape the future NHS.
Day-to-day responsibilities as a trainee could include contributing to policy programmes, working in a policy unit or developing new approaches to financial and allocation strategies. You might be working as part of a team to publish briefing papers or collaborating with data analysts to ensure policies are based on accurate and robust data.
Qualifications
Trainees undertake a fully funded Postgraduate Diploma in Health Policy, delivered by Imperial College, London.
All trainees on the scheme study for a Postgraduate Certificate in Healthcare Leadership during their first year. In addition to academic qualifications, trainees participate in experiential and action learning, to develop their leadership skills more broadly.
Teaching is delivered during working hours, but trainees can expect to complete coursework and revision in their own time.
Career path
Most trainees stay within NHS England after graduating from the Scheme, in roles such as Relationship Manager end-of-life care team, Primary Care Delivery Manager and Accelerated Access Collaborative Manager. There is also the scope for trainees to move into an operational role with an NHS Trust.
Entry
Any degree 2:2 or above
Location
London or North East & Yorkshire
Salary
£27,701 + benefits
We're looking for leadership potential. To help you achieve yours, every trainee is supported by a:
• Programme manager to support your progress through the scheme
• Support manager to provide pastoral support for the duration of the scheme
• Placement manager on each placement
• Buddy – usually a trainee from the previous cohort
• Local NHS Leadership and Lifelong Learning network – host local events and manage alumni networks
• Trainee Experience Support Group – advocate for trainees within the NHS
Policy & Strategy FAQs
Is there an opportunity to work in a Trust or organisation outside NHS England?

As part of the programme, all Policy & Strategy trainees undertake a 6-month NHS placement which provides operational experience.