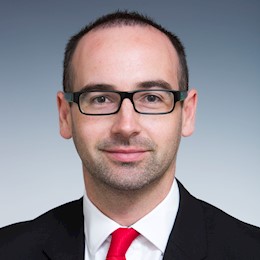 Financial Management Scheme
Assistant Director of Finance
What programme were you on when you joined the GMTS and when did you leave?
I was on the 2004 Financial Management Training Scheme intake and graduated in Summer 2007. I was based in the East Midlands with placements mostly in the North Nottinghamshire region.
What has been your career journey progression with the NHS?
Upon leaving the scheme I became a Directorate Accountant within the Rehabilitation and Cancer team at Derby Teaching Hospitals NHS Foundation Trust. I quickly progressed to work within the Programme Management Office and supported the Deputy DoF on corporate finance and reporting. This was a fantastic role as it gave me exposure to the whole trust and gave me a good grounding in project management as well as our relationship with of our regulators, Monitor. From this role I moved into a Divisional Accountant role for Medicine, effectively the lead business support for the Medicine Division (c£100m turnover). This is equivalent to being the DoF for the division, being involved in business development, performance and governance. I would recommend this type of role to all aspiring finance colleagues as this is a real opportunity to work closely with clinicians and truly understand the NHS and its front line operations. In April 2013 I became Assistant Director of Finance at Chesterfield Royal whereby I lead on all financial matters relating to Financial Management; including financial planning, reporting, commissioning & contracting, transformation, costing, projects, deputising for the DoF and leadership to the Finance team. This role has a significant focus working with external stakeholders such as commissioners, local authority, providers and regulators.
What advice would you give to someone thinking about joining the scheme?
The scheme itself is fantastic, you are very well supported both personally and professionally. This creates the bedrock of skills and knowledge for a successful career in a senior leadership role within the NHS. To be honest if your only drive is financial reward then you can probably earn more money elsewhere. However the complexities, dynamics and most importantly people and patients that you get to work with and for make it such an interesting and great place to have a career and one that I think makes it very difficult to rival. My one main tip would be to go and spend some time with your local trust finance department and meet some of the individuals currently on the scheme. This will give you a great flavour of what's to come.
What has been your defining moment so far working for the NHS?
Most defining NHS moment has to be working with clinicians to help facilitate and develop new and improved services for patients in our local community. Hearing patient stories is really important, helping keep the patient at the centre of what we do.