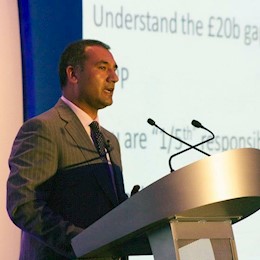 Finance Scheme
Director of Finance & Information
What programme were you on when you joined the GMTS and when did you leave?
I joined the NHS Finance scheme in 1997 and graduated in 2001 after completing a degree in Economic & Accounting and MSc in IT & Management.
What has been your career journey progression with the NHS?
My career journey within the NHS has been varied and rapid. I began as a Trainee at the Southport Community MH Hospital, following which I worked as a trainee before being offered Directorate Accountant role once qualified at Salford Royal FT. I then moved to become Chief Management Accountant at Alder Hey FT, then Assistant Director of Finance/Operations/Performance at North West Strategic. Most recently my role has been as Deputy Director of Finance/Information at St Helens & Knowsley Trust, before moving to my current role as Director of Finance / Deputy CEO at Calderstones Partnership FT. In October 2015 I am due to start my new role as Director of Finance/Information at St Helens & Knowsley Trust.
What advice would you give to someone thinking about joining the scheme?
For all schemes really throw yourself into everything you can at work and with the scheme. That safe environment of testing and experimenting will not come back once off the scheme.
Listen to everyone you meet: patients, staff and carers. There are some really wise people in all kinds of different roles who can have the answers.
Network, network and network more. Meet people at every event you go to, build a profile which is noticed in the place you work and the region you are in. When people ask for talented staff when job opportunities come, your name should be in that list.
Don't screw up – pass your exams, be resilient to tough managers who are pushing you, stand up to people/services that are not right. But remember: there is a fine line between confidence and arrogance, do not cross it!
What has been your defining moment so far working for the NHS?
Working with some of the best managers in the business has really inspired me and pushed me to be better than I thought I could be. My job, I have realised, is to give that back as often as I can.
One example that really stuck with me was in a job interview. I was asked by a patient, "What does the Director of Finance do, and how will that help me?" This is an easy answer to give to a board or a chair but to a patient not so easy! After my first answer, the patient replied that he still did not understand how my job helped him or the nurses caring for him. So I tried again. My second attempt focused on serving the patient and staff as their director. And I got the job!