Human Resources Scheme
Assistant HR Business Partner, Birmingham
Quote / Testimonial:
I spent 12 hours in the Intensive Care Unit with a gentleman in his final days. The humanity shown to his family by the doctors and nurses will live with me forever. How many HR schemes touch you like this?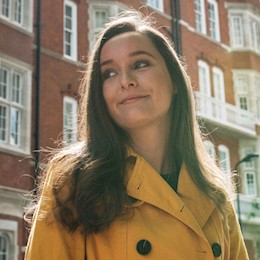 I think this really stuck in my mind partly because I'd never seen someone so close to the end of their life. It made me think about the fact that the NHS is there throughout some of the hardest moments of our life. While we didn't get the best outcome, in that his life couldn't be saved, the service did enable him to die with dignity and respect and surrounded by his loved ones.
I wanted to work for an organisation that would in one way or another impact and touch the lives of everyone I knew.
I studied History at university and I'd studied the beginnings of the NHS. From this point of view I always had an interest in the NHS. I felt it was something that we should be proud of as a nation. Everyone interacts with the NHS at some stage in their life and for me that made it amazingly important and something I had to be a part of.
I was under no illusions about the challenges and pressure on the NHS. This perception hasn't changed and I still think you've got to be incredibly resilient.
What I probably underestimated is the power of the colleagues who get you through it all. I've met some amazing people along the way. The level of skill, integrity, empathy and knowledge is outstanding and probably not seen in any other sector.
The culture of the NHS is one of the things that gets me out of bed on a Monday morning.
I love going to work and being able to contribute to the delivery of patient care. Regardless of which sector of the NHS you work in there is an across-the-board commitment to patients and to keeping patients at the centre of everything we do.
In terms of support I think I'm lucky in that I do have a network of people who I would rely on if I had a difficult situation. I think the network of other graduate trainees is crucial, especially if you're finding something particularly challenging.
I started the scheme straight from university so my introduction to HR has been a bit of a baptism of fire.
I spent my first year at West Midlands Ambulance Service which gave me a great introduction to a very broad range of HR issues. Lots to learn in 12 months! But it's a fantastic feeling when you're able to support someone back to work quicker than expected, especially if they've been through a particularly tough time.
I carried out my flexi placement at Emerson, a multinational engineering firm. I learnt a huge amount about HR from a strategic point of view. I think the flexi placement is great for learning fast and adapting to a new challenge. The educational side has meant that I've been able to work toward gaining my CIPD and NHS-specific qualifications. While I still have a lot to learn I can't believe how much I have progressed in two years! I'm currently working as an Assistant HR Business Partner and am trying my hand at strategic projects and policy writing.
I only have to think of some of the cases I've worked on to know that being in HR has enabled me to make a really big difference to people's lives.
There are a couple of cases that really stick in my mind where I've helped individuals through really difficult times in their lives. In particular I remember a mechanic whose wife's cancer had become terminal and he had developed depression linked to this. We were able to offer him counselling internally and linked in with the local public health team to signpost him to local resources available. This was good for him because it meant that he had part of his life and identity back. He was so grateful!
You have to be very adaptable and pick things up quickly if you want to get the most out of your placement.
I think most graduate trainees share the willingness to get stuck in and involved as much as possible. In terms of my own strengths I think HR requires you to be empathetic and understanding of the situation, but equally be objective and fair. I've learnt that I'm more resilient that I expected and that I really value my relationships.
Before joining I'd encourage people to really consider whether their values fit the NHS.
I'd encourage people to apply. You get two years of really diverse experience with the academic aspects on top. The NHS can be really challenging but if you build a good professional network then you can really contribute to the bigger picture.