Human Resources Scheme
Employee Relations Advisor, Sheffield
Quote / Testimonial:
I've seen actual brain surgery, and I've shadowed the most amazing nurses. How many HR schemes give you moments like this?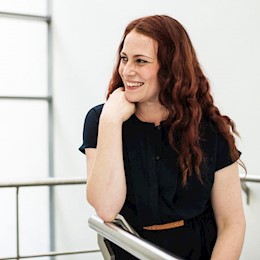 During the course of the scheme there have been several occasions where I've been wowed by my role and the doors that the graduate trainee scheme can open. I still haven't got over the immensity of the NHS – the challenges faced and the compassion and innovation utilised to combat this. The clinical stuff, for someone like me with a humanities-related background, always has the wow-factor.
It might sound corny, but I chose the NHS Graduate Scheme because I love the NHS.
The NHS is the cornerstone of the British society. I've benefited from it, so I'm indebted to the NHS, but I've also been frustrated by the NHS as it's such a complex organisation. However, I'll defend it to the last because it's here to do good. Whether it's being used as political leverage, it's the backdrop to your career and development, or it's putting you or your loved ones back together, it is our pooled insurance. And whether you're healthy, strong or outwardly in need, the NHS will be there for you when you're at your most vulnerable. I wanted to give something back.
The scheme allows you to fit together different pieces of the NHS puzzle.
Before joining the scheme I'd had some temporary roles working in an acute Trust as admin and reception support. It was hectic, there was a lot of paperwork and I was not completely sure how I would squeeze all my tasks into the day. My Graduate Management Training Scheme experience has some similarities – my desk is shrouded in forms and I am continually shocked when home-time arrives. However, the big difference is that I now know why I am here.
You're plunged into an array of different healthcare organisations; all with their own unique culture.
It's a brilliant way to help you assess what type of environment pushes your buttons and identify those that may make you want to run for the hills. So when you get this level of variance it is wonderful to have a stalwart forum and culture to come back to, and that's the graduate scheme support network. When you gather together 100 hungry graduate trainees, passionate about healthcare and challenge them with hardcore training and an improvement mandate – you get sparks. It's exciting, you'll make true friends, and you'll change your way of thinking.
It gives you a unique insight from the ground up – and I can't wait to learn more.
The scheme started with a mind-blowing one month induction, where I got an incredible insight into different aspects of the NHS. Since then I've immersed myself in a wealth of training and development opportunities. The NHS is big. It's mammoth. And so is the scope to learn and achieve, through development days, experiential learning and the operational experience gained on our placements. I've also been supported to study for the Postgraduate Diploma in HR Management, and the Postgraduate Certificate: Learning to Lead, on the Mary Seacole Programme.
We have amazing tools and inspiring colleagues to help us on our way.
Whatever skills and experience you bring, they're all valuable; this scheme will utilise them and nurture your potential. You'll start to get a feel for what style suits you and where your key strengths lie, and you'll see yourself from a different perspective. Alas this must also come with recognising some age old flaws and new problem areas you didn't even know existed. It may not always be pretty but you can guarantee some great, supported personal and professional development here. My advice? Figure out what you want, and don't be afraid to try different things.