General Management Scheme
Graduate Trainee
Quote / Testimonial:
The NHS promotes world-class healthcare. And I don't just want to contribute to that. I want to improve it for everyone and change people's lives for the better.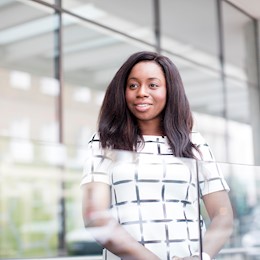 I'm looking forward to bringing change in people's lives.
The NHS promotes world class healthcare and I want to contribute to this and also improve it. I intend on doing this by treating everyone with care, respecting them and acting with dignity.
I'm training to be a general manager where I will leave with a qualification in healthcare management.
Everyday involves a different story, from meeting with board members to sorting out the number of beds available for hospital patients. During the course of the scheme, I will learn how to manage my time more wisely, be more organised, take the initiative when faced with new tasks and make smart decisions quickly. Alongside working, I will be learning via the Elizabeth Garrett Anderson programme how to be a successful leader in healthcare.
I chose to be a part of the scheme because I can see how the NHS is making a difference in people's lives and I wanted to contribute to this.
From talking to previous trainees, I was able to see and learn how they were equipped with the right skill set to solve real life problems.
I feel like it will be slightly challenging working for the NHS but also rewarding. Knowing that people will be coming into my place of work in critical conditions and leaving in a better state because of my hard work and effort will put a smile on my face and motivate me to do more. I also love change and because every day will be different, this excites me.
I would definitely encourage people to apply.
This is such a rewarding experience with great opportunities to better your skill set. I would also encourage future applicants to read into the Scheme more, especially the experiences that previous trainees have had and what positions they were able to elevate to.