Policy and Strategy Scheme
Graduate Trainee
Quote / Testimonial:
I'm looking forward to the responsibility. Improving people's quality of life will be highly rewarding.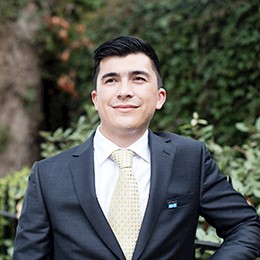 The exciting part about joining the Policy scheme is that healthcare is a constantly changing industry.
Age demographics are shifting, scientific and technological advancements are occurring, and new challenges are always arising. My personal role will be with the team developing the Multispecialty Community Provider Vanguards, which focuses on integrating primary and secondary care. It will be a challenging experience, but a highly rewarding one when it improves the quality of life for our population as a whole.
In my role, I most look forward to being able to work with a wide variety of healthcare providers.
I could be on the front line working with patients and clinicians to ensure their voices are heard. Another day might involve working the Department of Health to ensure health objectives are clearly understood. Not any one day will be the same and the challenges bestowed on you in the Policy scheme will thoroughly prepare you for a successful career in the National Health Service.
In my next two years I'll gain a wide range of healthcare experiences.
The first placement is at the head office for NHS England, where I will gain a wealth of strategic knowledge in designing healthcare policy. My second placement will be at a local NHS trust, possibly working on the front lines of a hospital gaining first-hand experience of operations. Additionally, during the scheme, policy graduates will be studying for a post-graduate diploma in Health Policy from Imperial College and another in Healthcare Leadership from the Elizabeth Garrett Anderson program.
The Policy department plays an integral role in the development and accountability of the healthcare system.
It is responsible for maintaining a good relationship with the government, while also ensuring the needs of local healthcare units are met. In essence, the Policy department most contributes to the future of the NHS. The policy decisions made today will have significant effects on the healthcare system of the future.
At university, I studied economics and finance with a view of going into the finance sector. I decided that this wasn't for me in my final year of university. Instead, I wanted to be a part of an organisation where I felt like I could make a difference for the community and not just receive a pay check. Being an American who didn't grow up with a nationalised healthcare system, I can really appreciate the value of service the NHS provides. Another important aspect I considered while applying was that education doesn't stop after you acquire your degree. It is a constant process of self-development, for which the NHS Graduate Scheme provides an excellent platform and structure.
From conversations with other graduates, the key aspect was that no day is ever the same.
There will constantly be new challenges, which have very real effects on the community. It will definitely make getting out of bed in the morning easy, knowing that the work we do provides positive benefits for our community.
All in all, I most look forward to the vast amount of responsibility that I will receive in my role.
If you are even slightly thinking of applying, definitely do. The NHS is looking for people who can show their potential to develop into leaders of the future, meaning you don't necessarily need to be perfect now. The assessment centre is an incredible experience and my best advice is to just be ready for anything.