Health Informatics Scheme
Information Analyst, Newcastle upon Tyne
Quote / Testimonial:
My work was helping to prevent female genital mutilation. That was when I realised the power of Health Informatics to touch people's lives.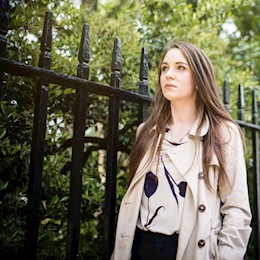 I was part of the team that created a database allowing healthcare professionals call attention to and support women or girls who'd undergone, or were at risk of undergoing, female genital mutilation. Our work will also play a part in setting up services and schemes to help prevent this illegal activity.
I wanted my first post-university role to be within the public sector, in an environment that was challenging and innovative. This scheme met all my criteria, and more.
When you're working on projects that require determination and test you both personally and professionally, it becomes all the more satisfying when you think that patients, their families and friends are benefiting on the other end. It's a snowball effect of positive impact.
The values of the NHS ring true to me.
Before joining the scheme, I saw the NHS logo as a symbol for a lot of people working towards maintaining and improving the system. When I got here, I was astounded by the exact number of people behind that logo! Not only in numbers but in professions and experience. The challenges are immense and ever developing, but this is a large part of what drives people in the NHS.
Everyone's working towards the same vision.
I've found that no matter which area you go into or who you speak to, they're all working towards the same vision: improving the services on offer, improving patient experience and safeguarding the NHS. To have such a vast amount of people collaboratively working towards the same goal is amazing! I've yet to hear the word 'no' when I ask someone for help or the opportunity to get involved. Either they can help you, or they'll try their hardest to guide you to someone who can.
The health informatics scheme offers scope to get involved in lots of innovative areas.
The area is so vast and ever expanding that there are plenty of roles, projects and opportunities to get involved in – from the more technological to the people based. Opportunities range from creating databases and aiding better practice for frontline staff, to working on strategic business planning projects or patient experience-enhancing and cost saving initiatives – all from concept to implementation.
Health informatics feeds into near enough every aspect of healthcare.
There's so much more we can do to help the health and social care system utilise technology and information to improve services and aid better health outcomes for patients. It gives you a solid grounding from which to either develop within the field or move into others.
I'm exploring a wealth of opportunities to develop both personally and professionally.
As well as getting on-the-job experience from operational tasks and project work across a variety of issues, we're also supported to achieve two postgraduate diplomas. We're given multiple opportunities to explore leadership theories and concepts in a safe environment before putting them into practice in the working world. And with a multi-dimensional support network to facilitate opportunities and meetings, this helps me to define what I want to do and develop my career aspirations.