General Management Scheme
Delivery Office / Project Manager, Birmingham
Quote / Testimonial:
Three feet away from a live operation – that's when I realised what real team work is. What other general management scheme gives you the chance to learn from surgeons?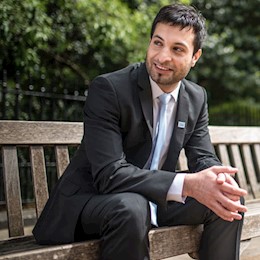 My first wow moment here was during my orientation, when I was invited by a surgeon into the theatre to observe a couple of operations. This is not something I envisaged I'd ever get a chance to do, and being only feet away from a live operation was an unreal and absolutely amazing experience. This really hit home that this wasn't just any graduate scheme, but one that was unique.
I was really excited by what my journey would be like on the graduate scheme.
The way the surgeon and the whole team worked together in the theatre made me feel like this is exactly how a team should work together without any issues. Everyone knew their role, what to do and when to do it – and it was fantastic. I knew this is how every part of the NHS should work.
I wanted to be as frontline as possible.
I chose the General Management scheme as it offered the variety and scope to do and experience many aspects of NHS service delivery. I really liked that you're also given lots of opportunities to develop your own leadership skills, and gain first-hand experience in a role with real responsibility from the start.
I've enjoyed working with a host of different people in the NHS.
When I started my first placement in an acute hospital, it was daunting going into an environment where my decisions would impact directly on patient care – but everyone was so supportive. From consultants and nurses, to managers and other support staff such as finance, HR and procurement, there are always people willing to support and help you. I have a mentor who has been fantastic with me, and made me see things I perhaps hadn't considered.
What excites me is the challenge of doing and implementing something new that will ultimately help improve patient care.
One of the projects that I led helped to improve patient waiting times in phlebotomy by 60%. I also led a service review in orthotics that led to a reduction in patients waiting for an outpatient appointment from over 20 weeks to around 14 weeks initially.
At the moment, I'm operationally managing 12 GP practices, and leading a number of projects across the whole of the Birmingham health economy. I'm also working on developing a GP federation in the city, in line with the NHS five year forward view, and I think this will set a precedent for other parts of the country. If the model works, and we truly achieve integrated care across the primary, secondary and tertiary sectors, it will go some way to helping with the overall challenges the collective NHS is experiencing.
The NHS is such a vast organisation, there are always new things to learn and try.
Variety and diversity is definitely one of the draws to this scheme, together with all the personal and leadership development. The scheme has a great reputation for developing dynamic leaders who excel – many of the senior leaders here started out on the graduate scheme. Add to this the opportunity to have a placement outside of the NHS, and it really sets the scheme apart from the rest. Not only that, but you're doing something that could at some point benefit the people you care about the most.