Quote / Testimonial:
"You're given lots of opportunities to develop your own leadership skills. Not only that, but you're doing something that could at some point benefit the people you care about the most."
Mohammed Usman Rehman, NHS Graduate Management Trainee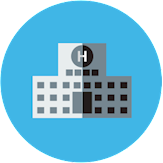 With this specialism, you'll have all the tools and knowledge you need for a successful career in leadership and management. Over the two years of the Scheme, you'll gain the skills, knowledge and confidence that will enable you to make real improvements at the frontline of the healthcare service and improve patient care.
What to expect on the General Management Scheme
Designed to fast track you to director level appointments, this Scheme gives you practical experience of organisational strategy, healthcare policy, managing change in healthcare, and many other general management areas that have real impact on the running of the NHS. You'll grow a sound knowledge of local needs and integrated working practices with the objective of improving patient care. And, to ensure you get the most from the Scheme, you'll have direct input into how your training develops, as well as being monitored on your competencies as you progress.
Where it can lead – the role of Executive Director or Chief Executive
With new advances in technology, science and medicine, the NHS works constantly to improve services for anyone who needs healthcare. The roles of the Executive Director and Chief Executive are of paramount importance in driving these improvements.
In these roles, key responsibilities are to:
– Establish, lead and drive strategic direction
– Strengthen organisational capabilities
– Lead operations
– Ensure financial viability
– Maintain a learning organisation
– Create effective relationships with stakeholders