Quote / Testimonial:
"The area is so vast and ever expanding that there are plenty of roles, projects and opportunities to get involved in."
Megan Reid, NHS Graduate Management Trainee
Why Informatics?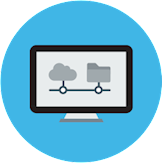 Without informatics, the NHS would grind to a halt. Every area depends on information to do its job, and that information is delivered through informatics. Informatics will continue to be crucial to delivering a sustainable health and social care system, as evidenced in recent publications including Health and Care 2020 and the Five Year Forward View. The NHS is part of the National Information Board, a group of national health and care organisations developing strategic priorities for data and technology.
Informatics is a fast moving and evolving field with many different areas. You don't need to be technical but you do need to be interested in how we can use information to provide and transform patient care. You will have the opportunity to experience different roles across three placements on the scheme.
Informatics trainees may be involved with one or more of the six core areas in this specialism:
– The collection, storage, and structure of data through processes, technologies, and information systems including the extraction of data from source systems into data warehouses
– The coding (often called clinical coding), categorisation and standardisation of data
– Information management, governance, security, law and patient safety
– Business & information analysis, interpretation, and presentation (including visualisations)
– Providing analytical and predictive intelligence to support decision-making
– Transforming ways we deliver health care for our patients through technology, facilitated by informatics project management. This may include procurement, development and delivery of online services, health apps and other digital health aspects.
What to expect on the Health Informatics Management Scheme
With this specialism you'll develop skills that will enable you to make a vital impact on the smooth running of the NHS and our delivery of first-class healthcare to the nation. You'll gain theoretical and practical experience on topics such as information systems, knowledge management, project/change management, user-centred design and engagement, representation, prediction and reasoning, analytical and scientific databases and digital health. You will grow a sound knowledge of local needs and integrated working practices. To ensure you get the most from the Scheme you will have a direct input into how your training develops, as well as being monitored on your competencies as you progress.
Where can it lead – the Director of Informatics
The Director of Informatics role is to enable, promote and support the effective use of information, knowledge and technology to support and improve health and health care delivery across the NHS.
In this role, key accountabilities can include:
– Providing strategic leadership for informatics issues
– Ensuring informatics is integral to the NHS's agenda
– Developing, promoting and monitoring informatics policies
– Planning and implementing IT projects that affect all staff and departments, to deliver improved patient care
– Directing the delivery of several patient focused departments including Health Records, Clinical Coding and Information Governance
– Implementing direct information governance through ensuring the NHS deals with sensitive information in legal, secure, efficient and effective ways
– Promote innovation and data-driven transformation