Quote / Testimonial:
"I only have to think of some of the cases I've worked on to know that being in HR has enabled me to make a really big difference to people's lives."
Claire Toms, NHS Graduate Management Trainee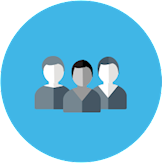 As the NHS continues to go through a period of massive change, our HR department takes an active role in managing the change process. They also work to create and implement cutting-edge strategies to acquire, retain and develop a high performance workforce, to deliver a first-class healthcare service at a local and national level.
What to expect on the Human Resources Scheme
With this specialism you'll develop the sound HR practices fundamental to a far-reaching career. You'll benefit from a balance of professional development through a staged programme, and the opportunity to lead on real strategic issues. Your training will cover areas such as change management, recruitment and selection, employment legislation, team building and performance management. You'll have all the tools, training and skills you need to take the lead in the development of HR and the delivery of good practice with high quality services, culminating in comprehensive patient-led healthcare. And, to ensure you get the most from the Scheme, you'll have direct input into how your training develops, as well as being monitored on your competencies as you progress.
Where can it lead – the role of HR Director
The HR Director needs vision and strong leadership qualities. It's their responsibility to lead the organisation's planning and talent management strategy, so we have a workforce of highly skilled, diverse and dedicated individuals who'll contribute individually and collectively to delivering high quality patient care now and in the future.