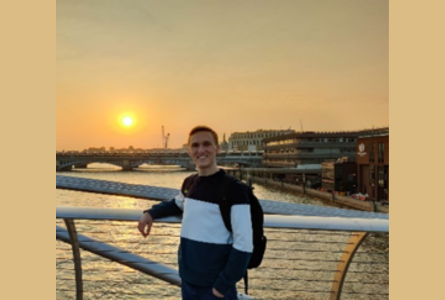 I have always wanted a job that positively contributed to society, and my mum, who has spent her career in primary education, has inspired me in this. When I was a university student, I volunteered as a Steward Volunteer at Covid-19 vaccination sites. I was inspired by how the NHS staff at these sites went out of their way to help people, such as assisting one patient in booking a taxi home. They were also enthusiastic about teaching me as much as they could about their NHS work, and I remain grateful for those learning opportunities.
The chance to support the NHS by joining the Graduate Management Training Scheme appealed to me significantly. The Health Informatics specialism intrigued me because of its potential to improve patients' lives by changing how healthcare is delivered.
Having studied International Relations with Spanish at university, I was worried upon starting the Scheme that this specialism would be too tech-focused for me. However, I have found that Health Informatics is well-compatible with my humanities background. While analytical methods are a significant aspect of the specialism, people-focused concepts, such as digital strategy and working with stakeholders, feature strongly as well.
What I enjoy most about my experience on GMTS is how varied the work can be, with a breadth of opportunities available. I have worked on various tasks, including writing performance reports about waiting times, helping develop my organisation's 5-year strategy, and completing projects to increase our workforce's digital confidence.
Another highlight of GMTS is the chance to connect with other trainees. I meet with trainees through education residentials, catch-ups with my "buddy", and the Scheme networks.
I have recently started supporting the LGBTQIA+ network, and I am currently doing exciting work planning for Pride month. This includes collaborating with the editor of the trainee newsletter to create a Pride special edition newsletter and sharing a recorded discussion between LGBTQIA+ Network members about our work and personal experiences.
My favourite moment on the Scheme so far was facilitating an assembly session for my area's 'Integrated Care Partnership'. This assembly brought together representatives across the Hampshire and Isle of Wight area from the NHS, local authorities, charities and more to discuss how best to work together for our local population. I facilitated a session where participants agreed on the Partnership's shared vision and values. It was fulfilling to know that I had contributed to bringing the attendees together to help our community.
---
About me
Outside GMTS, I volunteer for a charity called Just Like Us, which supports LGBT+ young people in various ways, including through school talks, career mentoring, and media opportunities. I also enjoy baking when I can and am glad to have fellow bakers at my office who I can get recipe ideas from!