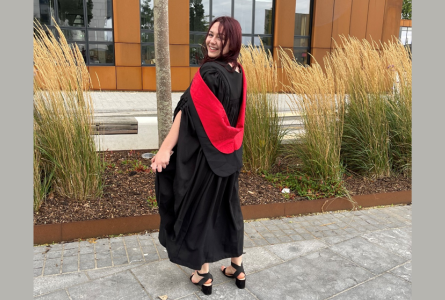 I am on the General Management stream as part of the 2022 cohort and I'm working in the South East region at Royal Berkshire Hospital.
I studied BA (Hons) Business and Management at UWE and I was actually the first person in my family to graduate with a degree.
During my studies I learnt a lot about myself and how I work but I still didn't know what I wanted to do once I finished.  Then I discovered the GMTS programme during my dissertation unit and knew that this was the job I wanted to pursue.
I'm working at Royal Berkshire Hospital for both of my placements – I'm currently still in my 1st placement.  I am the Self Funder Support Manager within my Trust, where I work with patients & families who pay for their own care once they have left the hospital. Like me, you may be surprised to learn that some people pay for their care once they leave the hospital, which has really opened my eyes to a side of the NHS which I wasn't aware existed! This first year has taught me so much. I loved the orientation period which is a whole month and this really allows you to get insight into so many different areas of the organisation and get a real sense of what you're part of.
Getting stuck in to the academic side has been a real pleasure for me. My favourite unit when I was studying for my degree was Leadership & Management, so I am getting to build further upon this topic both academically and also practically. The Action Learning Sets, Experiential Learning, Inquiry and Application Groups, as well as the Elizabeth Garrett Anderson Programme provide so much context to build your knowledge upon.  You get put into groups with different people so you get to meet lots of people and build your network straight away.
The Scheme really is an excellent way to work for the most prestigious institutions within the UK, so if you want to apply I would say go for it.  I actually applied to the GMTS programme once and was rejected but came back the next year a little bit older and a bit more experienced and got my place. I would say to never let failure deter you but instead use it to motivate you and learn from it, especially when it is something you care about.
---