Nicky, General Management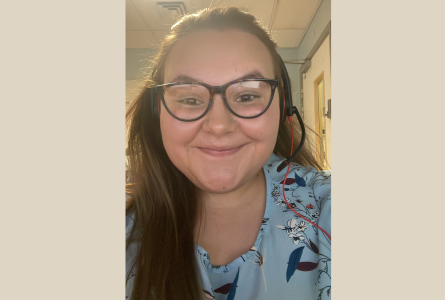 A little about me
Hi, my name is Nicky, I am a first year NHS GMTS General Management trainee based at Dartford and Gravesham NHS Trust (DGT). I graduated from the University of Nottingham in August 2022 with a degree in Religion, Philosophy and Ethics. 
Why NHS GMTS?
I think for me, I applied to NHS GMTS because I was fed up with talking about making the world a better place and really just wanted to actually do something to make a difference. By the time I reached my final year of university, philosophy felt detached from the real world. I had spent so much time thinking about the issues in the world that I really felt that I wanted to actively do something to make things better. A year on, I know this is a naïve view of the world but it still motivates me to get up and go to work every day.
What successes have you had so far on GMTS?
This is a really tough one to answer. I feel like there have been several small wins rather than anything massive. I have worked on a deep dive into one of the services offered by DGT, it was absolutely fascinating and I learnt so much from it. The little win for me was presenting the findings of this and gaining support for this to go forward. I have also worked on health inequalities with one of the teams and have been able to set up meetings with different charities to help us understand the different barriers that patients from underrepresented groups face.
What challenges have you faced so far on GMTS?
Any trainee would tell you that the first couple of months on any scheme are quite bumpy. The biggest thing for me has been travelling to work – I have to commute on public transport to work which takes me between an hour and a half and two hours each way. My job is 100% worth the commute but it can make things a bit tricky when it comes to having a social life or downtime after work and on the weekend. I think I have also faced a lot of imposter syndrome (also something that every trainee gets). I had no NHS experience (other than as a patient) so everything has been a massive learning curve for me. Everything from acronyms to going to a business meeting blew my mind for the first couple of months so it can be difficult to feel like you belong in the room sometimes. I have been really lucky to have been placed into a really supportive team who have never made me feel anything apart from welcome in everything I have attended which has made a massive difference to me. One of the other great things about my placement is everyone is really friendly and open. The NHS is a bit of a beast – there are so many parts to it and things work differently in different organisations so feeling able to approach people and ask questions makes a massive difference.
What are your ambitions post-scheme?
In all honesty, I don't have a set plan just yet of what I want to do. I still feel so new to the NHS and it feels like every day I hear about a new part of the NHS which makes it really difficult to know exactly what you want to do after the Scheme. I have really enjoyed my strategic placement so I think I could see myself doing something business management related within the NHS. I also spent time at the ICB (Integrated Care Board) recently and working there someday would be amazing.
How did you achieve success in the recruitment process?
I'll be honest, I really did not see myself getting onto the Scheme and I think that helped me massively in the process. I really was just 100% myself from start to finish, I answered all of the questions honestly and seemed to just get to the next stage each time but at no point did I think I would actually get onto the Scheme. I think the biggest piece of advice I would give with the process is to take each stage one bit at a time – there can be a bit of a gap between one stage and the next so it is best to just approach it one step at a time. I also remember being really nervous about the Virtual Assessment Centre (VAC) but the minute I logged on, I realised there was absolutely nothing to worry about. The strengths-based interview was by far my favourite part because it really was just a conversation and my assessor was absolutely lovely.
How do you make a difference to the NHS every day?
This is really hard to answer too. The amazing thing about the NHS is the people! Every single day, I am inspired, challenged and blown away by the incredible kindness, humbleness and work ethic that is present in this organisation. The NHS and especially DGT are incredibly special places to work – filled with people who quietly go about their days saving lives, changing lives and improving lives every single day. I very rarely see people looking upset and you can feel the warmth of the organisation the minute you walk in. I try to make a difference by making sure that people feel valued. I'm quite a smiley person so I like to smile at people and ask how their days are going. Other than that, I just wake up every morning and try to learn from the successes and hiccups of the day before.
What does your day-to-day life on GMTS look like?
No two days are the same on the Scheme and so there isn't really a structure to my days. I am someone who likes to have a bit of a plan so I usually log on in the morning, catch up on emails and have a look at the meetings scheduled for that day. Then I will go through my notes from the day before to see where I got to with all of my projects to make a priority list of what needs to be done in that day.
I usually have a catch up with my manager at some point in the day to discuss projects and to ask any questions I have. Then I get on with the different things I need to get done.
Most days I end up going completely off of plan; things come up that I need to get done or something I thought could be done one way needs to be done a different way so my priorities change. This is something you have to make your peace with and I have found doing a mind map every couple of days helps me clear my brain.
There are also things outside of my job that GMTS requires me to do such as competencies, EGA [Master's degree programme in Healthcare Leadership] work and arranging my flexi placement, so I will usually spend a bit of time each week on these to make sure I am on top of things.
I know I was really worried before I started the Scheme about what my days would look like and how I would know what needed to be done each day – but I worried for no reason. At the start of GMTS you have orientation which gives you time to get used to coming to work every day and to help you understand the NHS a little bit better. I used this time to really understand what my role was going to look like and what I would be doing every day but for anyone who is worried, it really does just fall into place.
---
About me
Outside of work I enjoy spending time with my family, attending church, going swimming two evenings a week and reading. I am also currently learning to drive so my weeks go very quickly and the weekends even quicker.