Tahmid, General Management
Hi there, I am Tahmid and I am on the GMTS GM scheme.
I started at the East Sussex Healthcare Trust in the lovely Eastbourne District General Hospital in September 2022 – fresh out of university!
I had no idea what to expect when I was starting, and I was completely new to the healthcare sector having no prior experience within the NHS.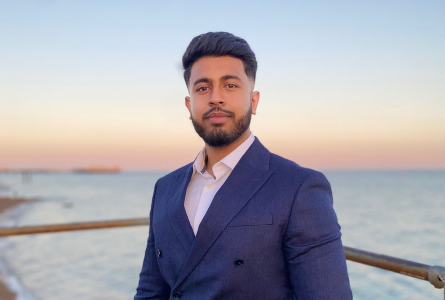 Thankfully the 20-day orientation period gave me a smooth transition into the NHS and I was exposed to a wide array of experiences such as: spending a day with a porter, meeting the CEO of the Trust and experiencing the business of A&E. These experiences and many more exposed me to the sheer enormity of an NHS trust and just how much work goes on by different staff members (clinical & non-clinical).
I am currently in my 1st placement in the role of a Service Manager whereby I am managing the inpatient Physiotherapy & Occupational Therapy department. This role has thrust me right in at the deep end – and it is exactly what is required to be able to immerse yourself within this role. The Service Manager role has a wide remit of HR, finance and operational management as well as many other areas. Thus this role is one where no day is the same and you are always having to think on your feet. I have massively enjoyed adapting to a role with such responsibility and learning much more about the importance physiotherapists and occupational therapists play in an acute hospital setting.
One key achievement in my time so far is being nominated as a finalist for my Trust awards in the category of inclusion & diversity. This nomination stems from my work in creating a Ramadan pack (including dates and water) for our Muslim staff during the time of fasting in the month of Ramadan, to ensure they feel valued during this enduring period.
Alongside my role, I am also studying for the Elizabeth Garrett Anderson Programme (EGA). This has allowed me to develop my leadership skills and allows me to enhance the leader that I can be to my teams. The Scheme has firmly supported me whilst I am on my journey and I am excited to be starting my flexi-placement at EY (Ernst & Young) within the next few weeks.
Tahmid, General Management, South East
---
About me
I am an individual from an ethnic minority background who was the 1st person in my whole family to attend university. I wanted to join the NHS GMTS because I grew up with the values of appreciating the healthcare system and I always wanted to contribute positively towards this as well as reduce the inequalities that are present in our healthcare system.
Fundamentally my career aim is to become the CEO of NHS England one day and this scheme provides me with the tools and skills to provide me with that pathway to achieve that goal.