Daisy, General Management
Without the NHS I couldn't even consider working – they changed my life. I wanted to do a graduate scheme where I could make a difference. In the NHS GMTS I can give back to the system that helped me so much by working to improve the quality of care and experience of people like me, people with disabilities. I want to make more opportunities available for others, and I've requested that as part of my development, I am able to give disability training to others in the NHS network so I can continue to improve the services and support given to employees with disabilities too.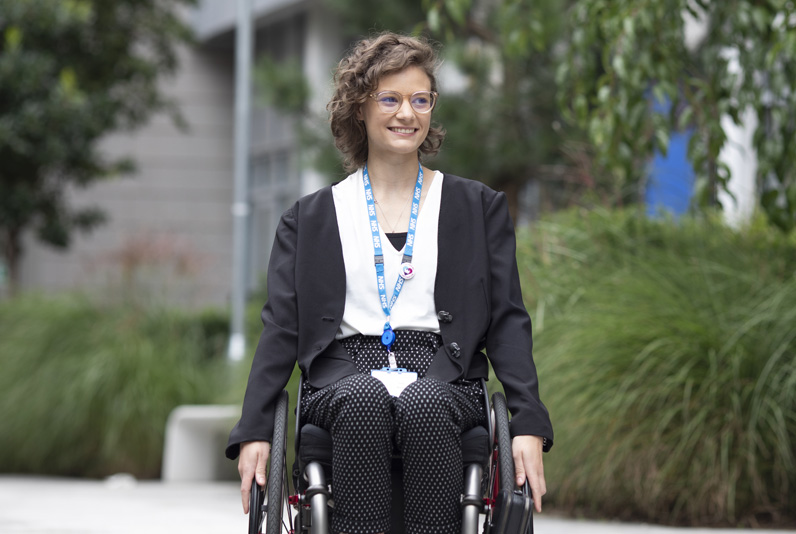 There is also a misconception that the NHS is one big entity but it's not! It's thousands of areas and organisations. I have been working to help move a renal unit from one region to another. This involved surveying patients, doctors and key stakeholders to tweak the project and improve the service. I have also investigated the experience of patients with learning disabilities in hospitals, to find out what services exist for them and how they are funded so we can improve the service.
It's important to know that even if you don't have a medical degree you can help. I use the skills I learnt in my English Literature degree to directly support doctors and nurses – just because I don't have a medical degree doesn't mean I can't make a difference
Daisy, General Management, London
---
About me
I trained as a ballet dancer from the ages of 11 to 18 before sustaining a severe injury and undergoing subsequent surgery which resulted in a life-changing disability, and have been a wheelchair user ever since. I then received a transformative spinal treatment which enabled me to go to university and look forward to a career. I studied English Literature at Cambridge and wanted to find a way to use my skills to help people. My passion for care drove me to apply for the NHS GMTS. I love working in an organisation which cares deeply about its patients and allows me to use my critical thinking and problem-solving every day, for good.